The Best Tent Heaters for 2023 – Our Top 5 Models and What to Look For When Choosing A Tent Heater
Published: April 15, 2023
At a Glance - The Best Tent Heaters 2023:
| Model | Warranty | Fuel Source | Power | Weight | Category | |
| --- | --- | --- | --- | --- | --- | --- |
| Mr Heater MH9BX Portable Buddy | 1 Year | Propane | 9000BTU | 9 lb | Editors Choice | Read More |
| Mr Heater MH4B Little Buddy | 1 Year | Propane | 3800BTU | 5 lb | Most Portable | Read More |
| Texsport Sportsmate Portable Propane Heater | 1 Year | Propane | 2890BTU | 2 lb | Best Budget | Read More |
| Honeywell HHF360V Fan Forced Heater | 3 Year | Electric | 1500W | 3 lb | Best Electric | Read More |
| Campy Gear Wiry 2 in 1 Portable Heater & Stove | 1 Year | LPG (Propane) | 13000BTU | 7.83 lb | Best 2 in 1 | Read More |
Introduction
As the temperatures drop and you plan your next camping adventure, staying warm and comfortable in your tent becomes a top priority. Finding the perfect tent heater can make all the difference between a cozy, enjoyable trip and a shivering, sleepless night. With a multitude of options on the market, selecting the best tent heater for your needs can seem overwhelming. That's where we come in! In this comprehensive article, we'll explore the top 5 tent heaters of 2023, providing in-depth reviews to help you make an informed decision.
In addition to our product recommendations, we'll also cover essential background information to guide you through the process of choosing the ideal tent heater. We'll discuss different types of tent heaters, their power sources, safety features, and other factors you need to consider before making a purchase. By the end of this article, you'll be equipped with the knowledge and confidence to select the best tent heater for your next outdoor adventure. Let's dive in and explore the world of tent heaters, ensuring you stay warm and cozy no matter how chilly the night gets!
Reviewed: 5 Best Tent Heaters 2023
1. Best Tent Heater – Highest rated and most popular
Mr Heater MH9BX Portable buddy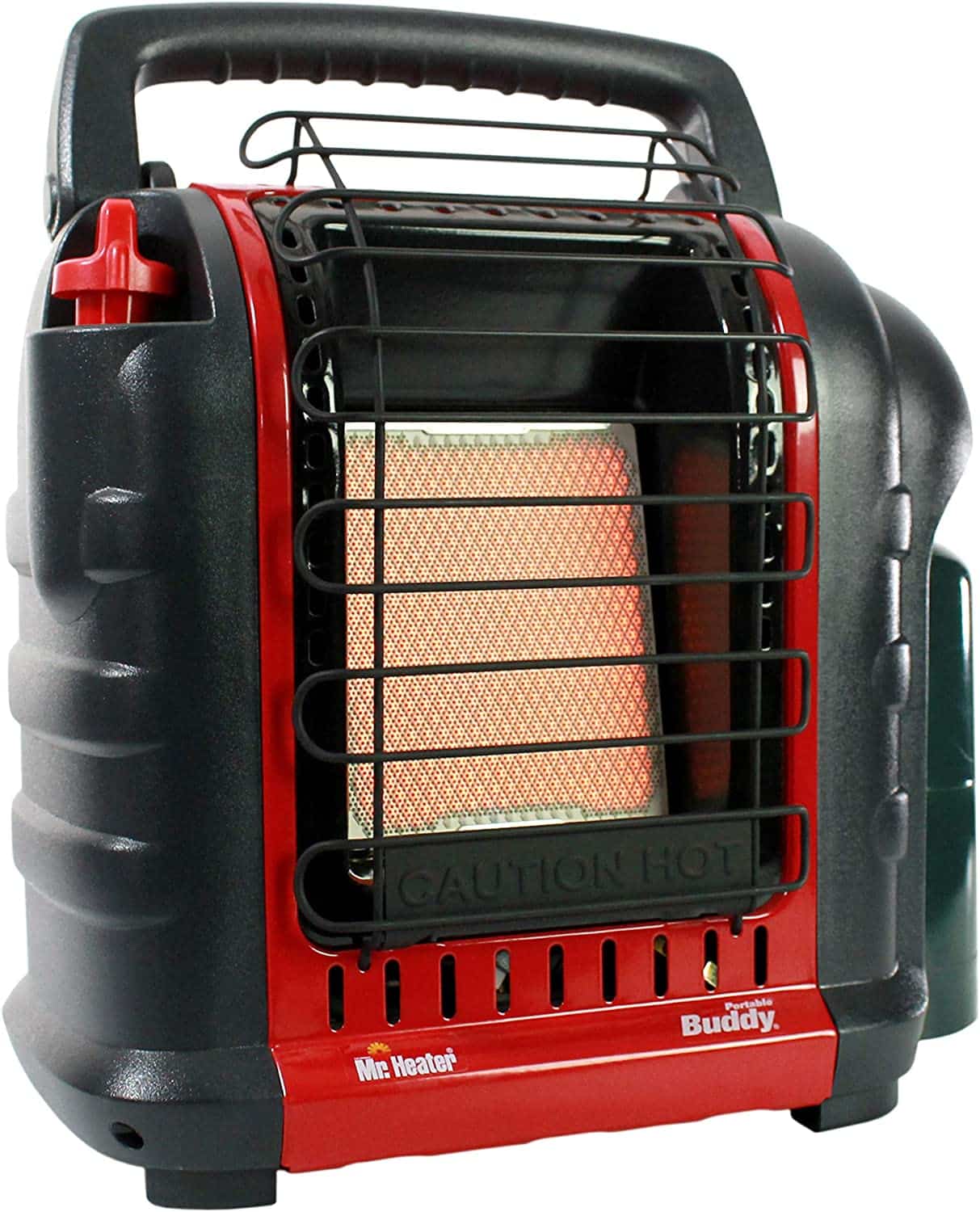 The Mr Heater Portable Buddy stands out as one of the best tent heaters. It is rated highly amongst a large number of purchasers who use it for a broad range of applications including camping. 
It is a propane heater running off a 1 lb cylinder but it can be connected to a larger 20 lb gas cylinder which makes it especially attractive if driving into a campsite where you will be staying for a few nights and you don't want the hassle of running out of gas.
It has great features, functionalities, and capacity for the right price. The camping heater for tents is built to produce between 4000 and 9000 BTUs lasting up to 2.5 hours when turned on high. This ensures that you get enough heat to make you warm at night. It will warm large tents up to 200 sq ft in size.
It comes with an accidental tip-over and oxygen depletion sensor to ensure safe usage. This propane tent heater is suitable for small to large tents – just adjust the temperature so you get the heat you need to keep warm.
It is a robust heater that is highly versatile so it can also be used outdoors helping you stay warm no matter what you're doing on your camping trip. It weighs 8 pounds so is light enough to carry to a camp site in a large hiking bag.   Overall, it is one of the best choices you can get in the market and is our top pick.
Excellent safety features with a wide base for stability
Able to be used with 20 lb gas tank via additional 12 inch hose and propane fuel filter. Use this for longer trips where you drive to the campsite storing the gas tank outside the tent
Very reliable with very few negative reviews relating to product quality or failure.  This is a company which generally has product quality control sorted
Versatile heater that can be used for a range of applications such as picnics and hunting
Oxygen sensor is not built for use above 7,000 feet altitude
Some purchasers advise of poor experience with the Customer Service team – thankfully there seem to be only a low number of issues and this is not considered a major concern based on the high level of satisfaction of most customers
Why you should buy this tent heater: If you're looking for a reliable tent heater that you can either carry or drive into your campsite to quickly heat your tent, the Mr Heater Portable Buddy will suit you (even if you have a large tent). And if your garage, deck or areas you go (like kids sporting matches or hunting) also get cold, you'll find lots of extra uses for this heater!
2. Best Portable Tent Heater
Mr Heater MH4B Little Buddy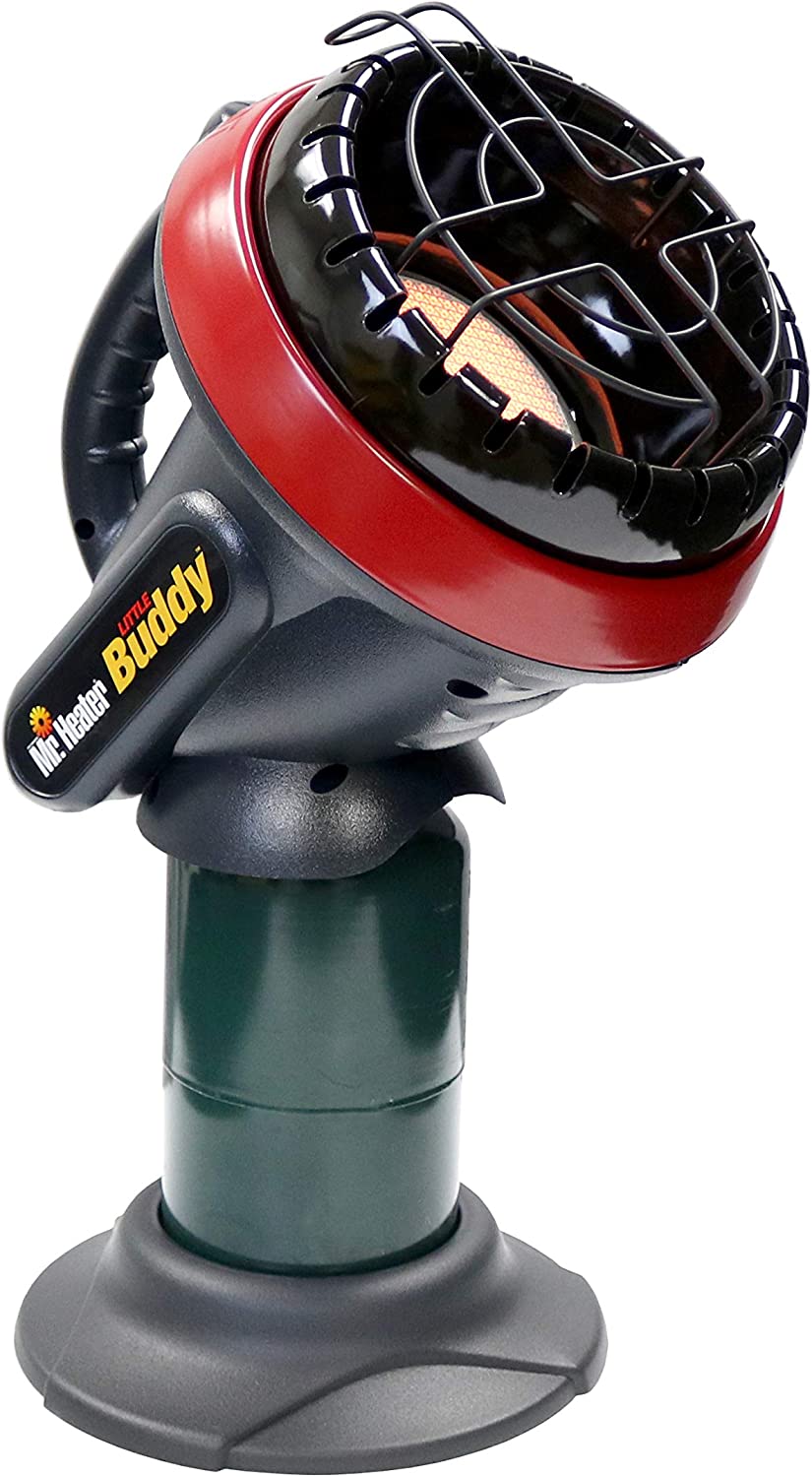 Mr Heater Little Buddy is the small brother to our top-rated tent heater. It is a propane heater and although it is smaller and more affordable, it functions almost the same way as the Mr Heater Portable Buddy. It is a great choice if you need something light and portable.
It weighs 5 lb and can be strapped onto a hiking pack and carried to your campsite without taking valuable packing space inside your bag. 
It has a single heat setting of 3800 BTUs and will suit tents up to 95 sq ft. The heat radiates upwards in the direction of the head of the heater.
It has an automatic shut-off feature and a metal grid blocking the heating element help to prevent burns. 
Overall, it is a great Mr Heater brand alternative if you're looking for quality tent heating with amazing features at an affordable price.
Very lightweight and portable so suitable when hiking into campsites
It can last up to 5 hours on a 1 lb tank
Quiet – you'll hear the hiss of the gas
Can be used for a range of other purposes such as keeping you warm on your deck
The base is not large and needs to be on a stable surface to help prevent it tipping over
Heat radiates only in the direction of the head so it may be tricky to position it to suit you if you want to feel warm straight away
Why you should buy this tent heater: If you're planning to hike in when camping or you are looking for a reliable heater for a small to medium-sized tent (up to 95 sq ft) , this affordable heater is a great choice.
3. Best Budget Tent Heater
Texsport SPortsmate Portable Propane Heater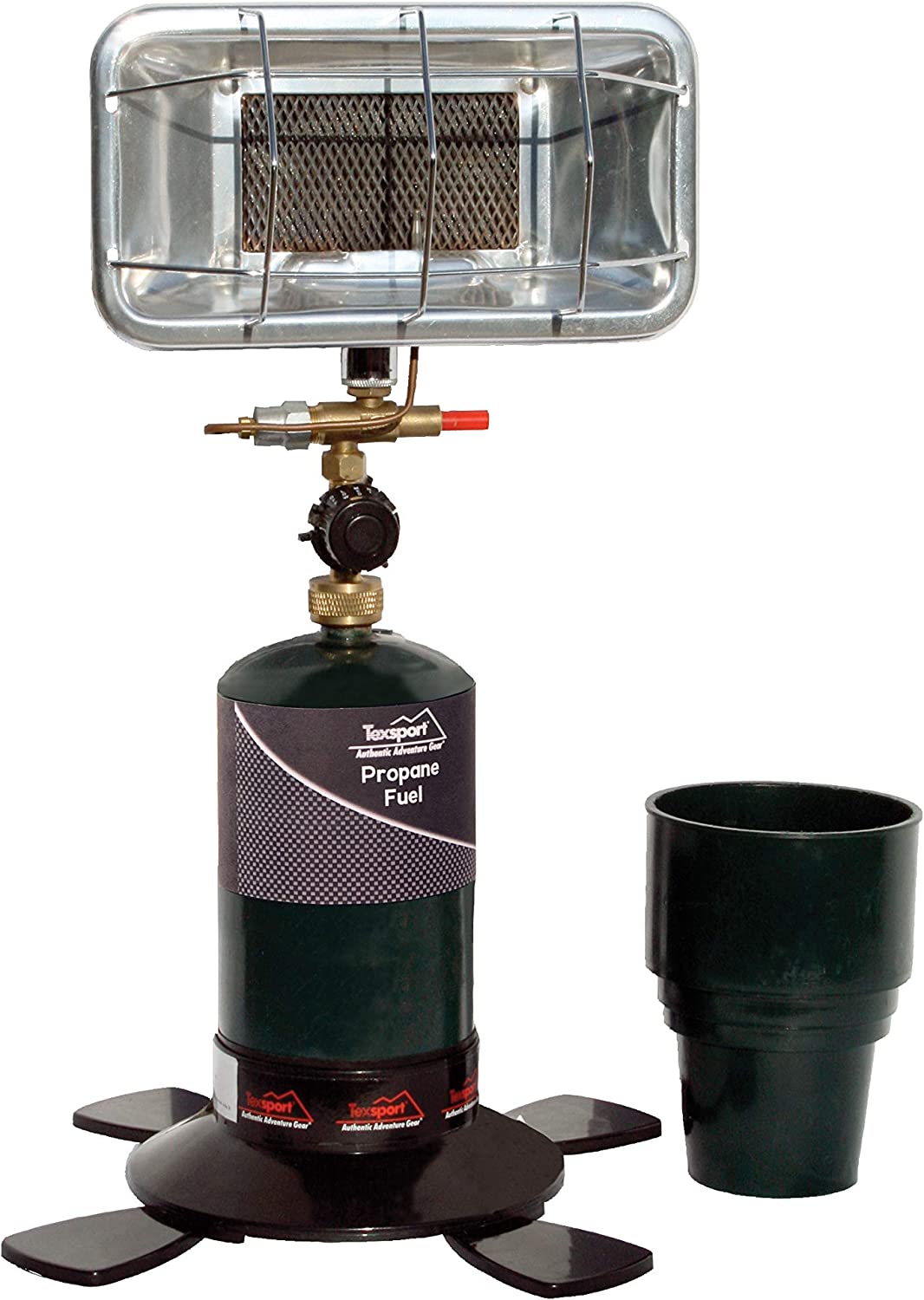 The Texsport Portable Outdoor Propane Heater can produce up to 2890 BTUs that last up to 5 hours. It comes in handy for extra warmth at camps during the winter period. The heater comes with a stainless steel cover for additional protection.
Texsports is your ideal tent heater for quick warmth in a small space or tent. It also features a large paddle base that holds a 16.4 oz disposable propane fuel cylinder. You can also focus the heat in the direction you want with the small dish attached behind the burner.
It has the auto shut off fuel valve feature if the flame goes off. However, it doesn't come with the tip-over shut-off. So, you need to be extra careful to avoid knocking over the heater. Overall, it is very affordable and has the necessary features ideal for an outdoor camping activity.
The heat can be directed where you want it
Lightweight (2 lb) and portable
The regulator is adjustable to control the temperature
Is also ideal for golf carts
Is more fragile than other Mr Heater models so extra care must be taken with transport and storage
Lacks the shut-off if it is tipped over creating the risk that items will catch alight if the heater is knocked over – extra care in where it is used is required
Why you should buy this tent heater:  If you're looking for an affordable tent heater that you could also use as a golf cart heater, the Texsport Sportsmate Portable Heater is ideal.
4. Best Electric Tent Heater
Honeywell HHF360V Fan Forced Heater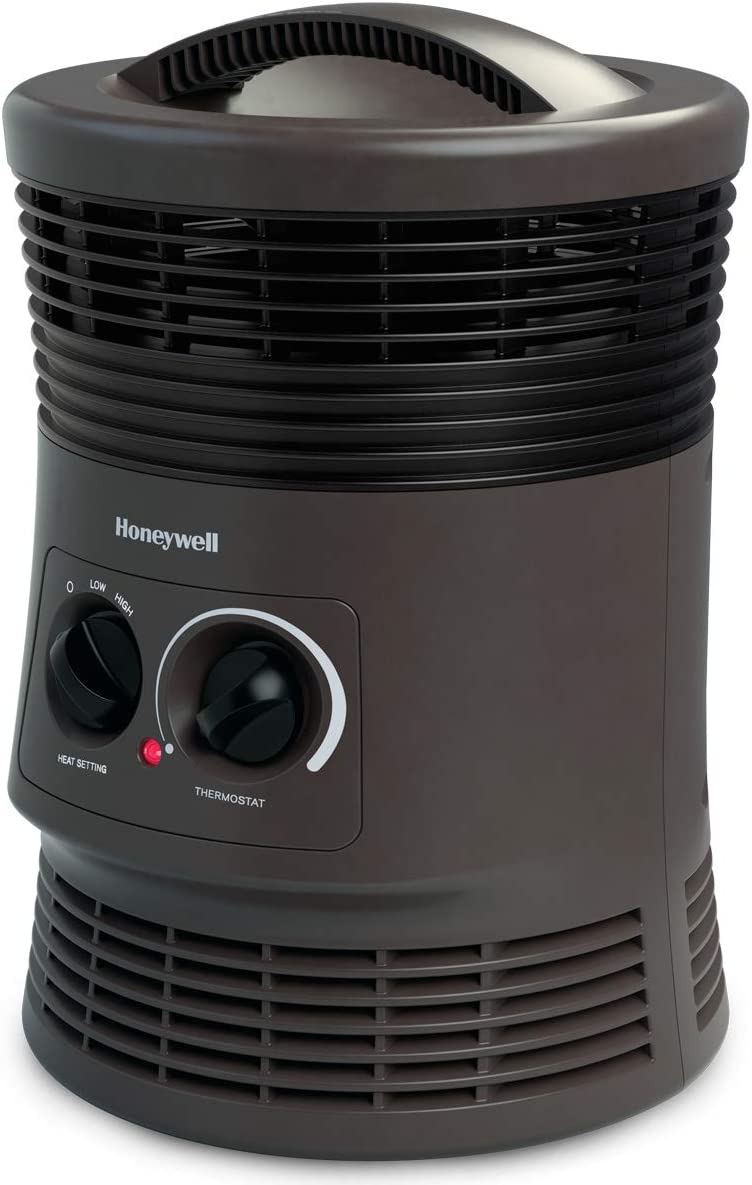 The Honeywell HHF360V is space-efficient, well-designed, and lightweight heater designed for small to medium rooms but is also well suited to tents. It has a unique 360-degree fan to ensure heat is evenly distributed in the tent. The tent heater also has an adjustable thermostat.
As an electric heater, you'll need a power source for it to work so it's only going to be suitable for camping if you have an electrical supply. If you are concerned about propane tent heaters, the Honeywell HHF360V is a great alternative.
It features a tip-over shut-off function to ensure it doesn't flame even when you mistakenly knock it over. Honeywell heaters come with an overheat protection and a cool-to-touch cover.
It is affordable for the qualities you get, and you're sure of getting value for your money. The special thing about this heater is that you have full control of your device. However, the presence of the fan makes it noisier than many propane tent heaters.
Produces no odors or fumes 
2 heat settings with an adjustable thermostat
Has a timer which you can set to turn off – ideal if you don't want the heater to run after you're likely to fall asleep
Can be used for a range of situations including indoor use (eg. for your garage or a screened in patio)
Requires an electricity source to your tent
Is noisy compared to other alternatives – this may be a nuisance factor when trying to sleep
Why you should buy this tent heater:  If you've got a power source to your tent and feel more comfortable with the option of an electrical heater (and some background noise from it), the Honeywell HHF360V comes with a ton of safety features to keep you warm in your tent.
5. Best 2 in 1 Tent heater and cooker
Campy Gear Wiry 2 in 1 Portable Heater & Stove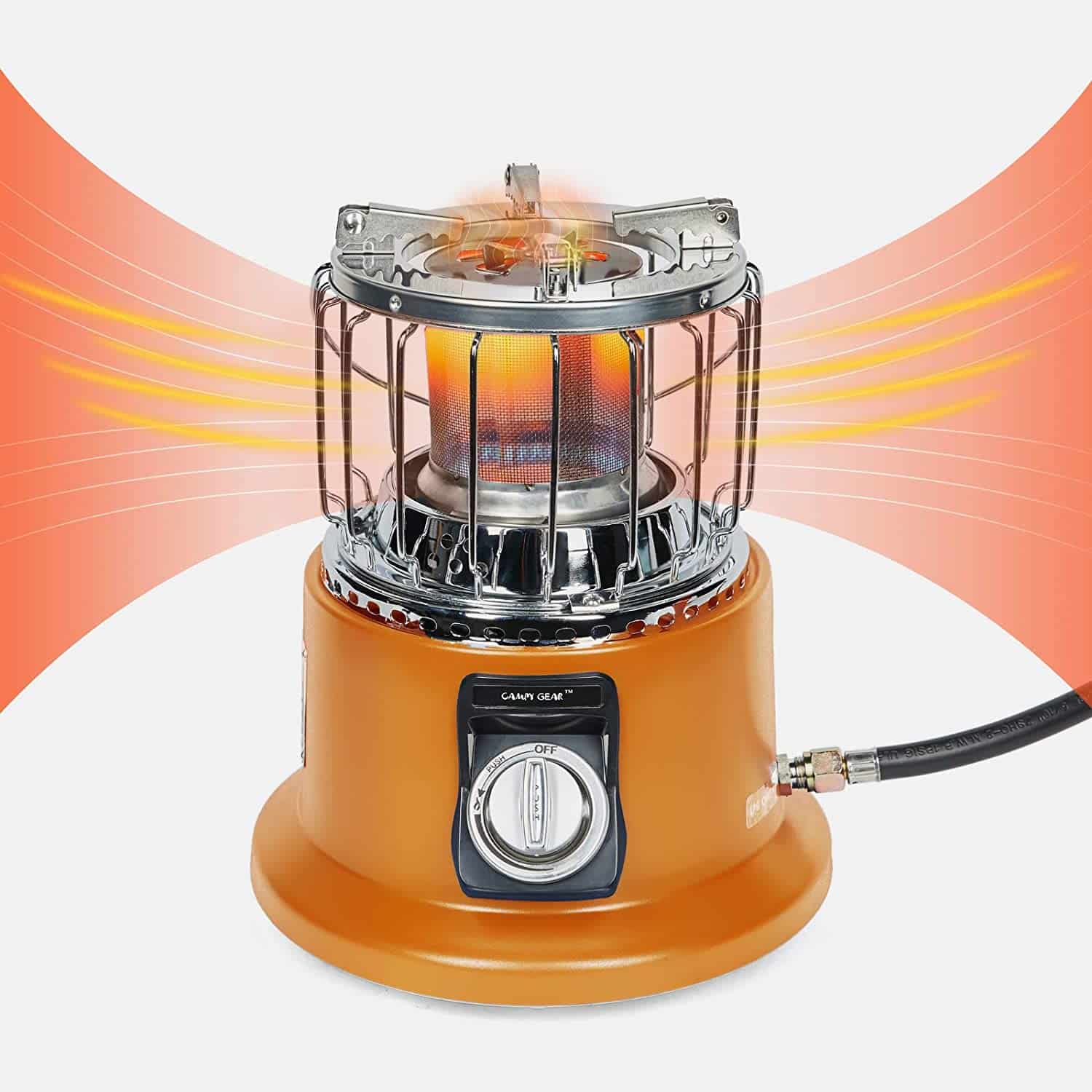 If you are looking for a versatile heater which you can also use to cook with, this Campy Wiry model is a great option. With power up to 13,000 BTU and heat radiating 360 degrees, it can nicely heat up your tent. You can choose between heat only mode or Heat and Cook mode.
This model comes with safety features including an ODS sensor if oxygen levels start to fall and a tip over switch which will shut it off if it tips beyond 45 degrees.  
The Campy Wiry 2 in 1 Heater and Stove runs off a 20 lb propane gas tank. Connection to a 1 lb tank is possible although it is recommended against due to how quickly the fuel will run out. Alternative model Campy Gear Chubby 2 in 1 Heater and Stove run off alternative fuel sources including butane. However this model lacks the safety features we'd recommend you have in a tent heater.
The option to use this model as a heater or a stove makes it a great addition to a camping trip
High heat output at a maximum of 13000 BTU
Good range of heat adjustment
Packs away into a compact unit making for easy transportation
Good stability when cooking with large pots and pans
Comes with a 5 ft propane hose to connect to a 20 lb cylinder so you'll have enough gas for heating and cooking
Where customers have had issues with product quality, the Customer Service has been excellent and proactive 
Available in a range of colours (green, navy, orange and taupe)
Not well suited to 1lb gas units based on how quickly it burns making it impractical to carry a 20 lb tank into a campsite over any extended distance
It does not come with a windbreak for cooking so the flame will blow around – or create your own windbreak in where you use the heater/ cooker
Why you should buy this tent heater: If you want the added bonus of being able to cook on your heater, the Campy 2 in 1 heater and stove is a great option. It will suit you better if you are driving to your campsite to accommodate the 20 lb gas cylinder it's recommended to run with.
What you need to know about a tent heater before choosing a model
Why consider a tent heater?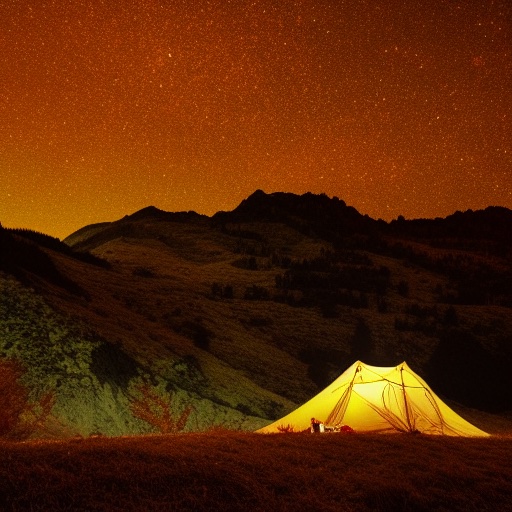 If you are like us, you love the crispness of the air, the colours and smell of nature as the temperatures cool down. Not to mention that there are a whole host of activities you can do in cooler temperatures – all with significantly fewer people around. 
But whilst there are the upsides of cool temperature camping, getting and staying warm, particularly for sleeping can be a challenge. Quality sleeping bags and tents do help but sometimes they may not be enough! 
That's where the best tent heater comes in. It will warm you on chilly nights and help you have a sound sleep. All so you and your loved ones are rested and happy the next day (the ongoing whining from sleep-deprived campers really does put a dampener on any camping trip!)
With so many tent heaters on the market, you might find it challenging to know which one to buy. This guide will help you make the right choice of tent heater for your next camping trip. 
What to Look For in a Tent Heater
Should you decide to buy a tent heater for your next outdoor camping, you don't need to rush to purchase any available one in the market. It would help if you found the suitable model or type that will work best for you and your camping partners. 
We've listed some things you should look out for when buying a tent heater.
Heater Type
There are various types heat sources for tent heaters. The popular ones include propane, butane, and electric. The camping weather condition, noise level, and camp distances are factors that can determine your choice of heater type. However, the propane type is more common among campers.
Heat Output
The heat output of your tent heater should be relative to the size of your camp tent. Manufacturers that make heaters often state the maximum square footage the heater can warm up effectively. British Thermal Units (BTUs) will help you measure the right heat output for your tent.
Safety Features
The tent heater you're buying should have some protection features. You need an ODS sensor if the heater is propane-based. The heater should also have auto-shutoff functionality when it is overheating. Safe camping heaters for tents are necessary to prevent potential fire hazards.
Size and Weight
You need to consider the size and weight of the heater and its fuel source before buying a heater for camping. If you are driving into a campsite and walking only a short distance, you have the option to choose larger/ heavier heaters for camping as well as a 20 lb fuel tank depending on the heater. If you are hiking to set up camp where both the weight and room in your pack will create a challenge, lighter and more compact camping heaters are a better option that will generate enough heat off compact fuel sources (eg. 1 lb).
Noise Level
Checking the noise level of the heater is important, especially if you don't have noise tolerance. You can consider going for propane heaters instead of the electric models because propane heaters have lesser noise than electric heaters. 
Safety Considerations When using Tent Heaters
No heater will be 100% safe and there are things you need to consider for its safe use along with the features within a heater to help to reduce the risk that anything will go wrong.
Use propane tent heaters in well-ventilated areas – Propane heaters result in carbon monoxide so it's important that the heater is used in a well-ventilated area with airflow. This means you should have the vents in your tent open or a tent window or door slightly open (yes we know you are not wanting to let the cold air in but these heaters are not designed to be used in enclosed spaces).
Use a carbon monoxide detector and alarm with propane heaters – Although the best tent heaters will have a sensor that cuts off the heater if oxygen levels get too low, we suggest you take a carbon monoxide detector with an alarm to provide extra peace of mind. Test the alarm and take extra batteries with you for your camping trip.
Position the heater away from obstacles – Consider where you will place the heater – and whether you actually have enough room in your tent for it to be used without being bumped into or accidentally having items knocked onto it. Your heater should be positioned 3 feet away from the walls of the tent, bedding and other equipment you have in the tent.
Consider only using the heater when someone is awake – Whether you decide to use the heater when people are asleep or only when awake, is something you will need to decide based on the peace of mind you want. You may decide to have the last person who falls asleep turn off the heater – although this may be hard to manage because falling asleep will be much easier when it is warmer. Having an alarm as a backup to check the heater is turned off may work for you as an extra check. Otherwise, we do know people who prefer to sleep with the heater on low so they stay warm all night relying on the safety features in the heater and extra monitors (carbon monoxide and smoke alarm). You need to decide what's right for you and your risk appetite.
Check propane hoses regularly for leaks – Use soapy water on the propane hoses, the gas cylinder valve and connection points to check for propane leaks. Open the gas cylinder valve and check to see if bubbles form which would indicate a leak.  If a leak is detected, do not use until it is remedied. If you are using your tent heater and smell gas, discontinue use immediately.
Safety Features for Tent Heaters
Newer heaters contain safety features which will provide greater protection so if you are tempted to pull out an old heater or borrow one from a friend, make sure it has these safety features to give you greater protection and peace of mind. hazard during camping. Some of the safety considerations include:
Auto cut off: The Auto cut off feature will prevent the heater from malfunctioning if it develops a fault. Once there's excess flow or loss of pressure, the heater will cut off automatically.
Overheating protection: This feature is essential because most heaters can be flammable. The heater will cut off the energy supply and disconnect when its internal components get too hot.
Tipping Protection: There's a switch under the heater that shuts off in case a heater is tipped over. 
Oxygen Depletion Sensors (ODS): The ODS is important when using a combustion heater in an enclosed space. It helps to regulate the oxygen level of the heater. The ODS allows the heater to cut out once the oxygen level is below the expected concentration.
Final Thoughts
You can go winter camping without a tent heater and still enjoy it when you have other items to help keep you warm. However, the best tent heaters for camping will enable a fantastic warmth experience, particularly on chilly nights. The difference a quality sleep can make to your enjoyment when camping cannot be underestimated particularly if you have reluctant campers accompanying you.
The key decisions you will need to make are the heat source and whether you are comfortable with a propane gas heater. We think propane tent heaters are the best option for heating a tent but should have a vent or door open for natural airflow and we'd recommend a carbon monoxide detector and alarm as a safeguard.
Probably the biggest decision you will need to make if using a propane heater is whether you turn it off when you sleep or keep it on. You need to get the right balance between safety against wanting an uninterrupted warm sleep. If you have an electricity supply, an electric tent heater will give you more peace of mind when sleeping as it is a safer option (so long as it has inbuilt safety features).
If you are driving into your campsite rather than carrying your gear in, choosing a heater that gives you an option to use a larger 20 lb tank will give you more flexibility so your gas doesn't run out particularly if camping for a few days. 
You should always use your tent heater under the manufacturer's recommendations. Any changes to the heater or accessories you use with it outside of manufacturer advice may void your warranty.
What kind of heater is safe to use in a tent?
No heater will be 100% safe in a tent but you can minimise the risk of both a fire or carbon monoxide poisoning (if you are using a gas heater) by purchasing a tent heater for camping with these safety features – auto cut-off, overheating protection, tipping protection and an oxygen depletion sensor ODS). It's also safer that you do not use a heater unsupervised meaning you should ideally be awake when it is on rather than falling asleep with it running at night.
Are propane heaters safe to use indoors in a tent?
There are several safety precautions you will need to take to use a propane heater in a tent. Propane heaters require ventilation as a by-product of the combustion of propane is carbon monoxide. This has no odor or color. To allow carbon monoxide to escape, any propane heater requires airflow. For your tent, that means you should have vents open. Most modern tents have mesh vents at the floor or a mesh ceiling and these may suffice for natural air flow. Otherwise, you'll need to open the window or door to the tent slightly to allow in air. This will definitely be the case for canvas tents. Even when it is cold outside, you should take this safety precaution and let in air. Deaths have occurred through carbon monoxide poisoning and you do not want to risk the lives of you or your family by wanting to stay warm.
When choosing the best test heater for camping, if you decide on a propane model check that it has inbuilt safety features including an oxygen depletion sensor (ODS). This should cut off the heater if oxygen levels start to fall. But don't rely on this – use a separate carbon monoxide monitor with an alarm that will sound if oxygen begins to become depleted (which means that carbon monoxide levels are increasing).