At a Glance - The Best Table Top Heaters 2023:
Model
Warranty
Power
Fuel
Height
Category
Hiland Portable Table Top HLDS032
1 Year
11000BTU
Propane
38 inches
Most Popular
Read More
Cuisinart Table Top Heater
1 Year
11000BTU
Propane
17 inches
Best Rated
Read More
Hiland Table Top Pyramid Heater
1 Year
9500BTU
Propane
39 inches
Best Pyramid
Read More
Star Patio Electric Infrared Heater
1 Year
5100BTU
Electric
26.5 inches
Best Electric
Read More
Bond Manufacturing Mara Table Fire Heater
1 Year
33000BTU
Propane
4.2 inches
Best Table Top Fire
Read More
Hampton Bay Tabletop
1 Year
11000BTU
Propane
39 inches
Best Bronze Finish
Read More
Bali Outdoors Patio Heater
1 Year
10000BTU
Propane
34 inches
Best Resort Style
Read More
Firesense Propane Tabletop Heater
1 Year
10000BTU
Propane
35 inches
Best Stainless Steel
Read More
Brian and Dany Tabletop Portable
1 Year
2000
Ethanol
5.7
Best Ethanol Heater
Read More
Say goodbye to chilly evenings and hello to cozy outdoor gatherings with the perfect solution – a table top heater. These compact and portable heaters offer the ideal warmth for your outdoor parties and get-togethers, without the hassle of a full-size patio heater.
But with so many options available, finding the best table top heater can be overwhelming. That's where we come in! In this comprehensive article, we'll introduce you to the top 9 table top heaters of 2023, providing detailed reviews to help you make an informed decision.
Not only will we recommend the best products, but we'll also provide you with essential background information to guide you through the selection process. By the end of this article, you'll have the knowledge and confidence to choose the perfect table top heater for your outdoor adventures. Let's dive in and keep the chill at bay, ensuring you and your guests stay warm and comfortable throughout the night!
Reviewed: 9 Best Table Top Heaters 2023
Like many products, outdoor heating has been impacted by supply chain issues. Our latest reviews take into account product availability but in some instances the quality control of products is not up to scratch of models that are currently unavailable. We'd suggest if you are making purchases, that you assemble and try them out within any product return period so if there are any quality control issues, you can have it replaced.
1. Most Popular Table Top Heater 
Hiland Portable Table Top HLDS032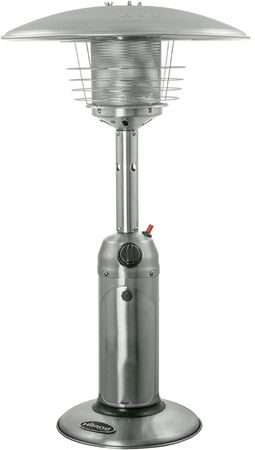 The Hiland HLD032 table top patio heater is a mushroom style heater that provides 360-degree heat coverage, ensuring all your guests stay warm. Its height of 38 inches keeps it on par with other tabletops on the market.
Made of stainless steel, this long-lasting table top propane heater offers great portability and is easy to move around without any damage. It is available in a range of finishes including stainless steel, black, hammered bronze, hammered gold and hammered silver to help complement your look.
Unlike some propane heaters, the Hiland Portable Table Top allows for better safety. The burner screen guard prevents hands from getting too close, while the anti-tilt feature immediately switches off the heat in case the heater falls downs or tips over. The thermocouple prevents gas leaks in case the pilot goes out.
With 11,000 BTUs, this heater offers standard heating, and we've found it makes an ideal choice for a gathering of 4 to 5 people sitting on lounges around coffee tables or a dining table.
The 1-pound propane tank allows it to run for approximately three to four hours at a medium setting.
And to refill it less frequently, you can use it with an adapter hose that allows connection to a 20 pound tank of propane. However, you would have to purchase that separately.
This Hiland portable table top patio heater is easy to assemble and comes with all parts, including a regulator. It is CSA approved meaning it has been independently tested against North American standards.
Available in a range of finishes
Portable and light weight
Adapter available to use with 20lb propane tank
Safe to use (CSA approved)
Some people had difficulty lighting it initially – follow the instructions and if in doubt, the company customer service have been found to be very helpful
Why you should buy this table top heater: If you want a portable heater that provides good heat coverage for 4 to 5 people whilst matching the look of your patio, there's bound to be a finish that suits and the Hiland Portable Table Top heater should be your top choice.
2. Best RATED table top heater
Cuisinart Table Top Patio Heater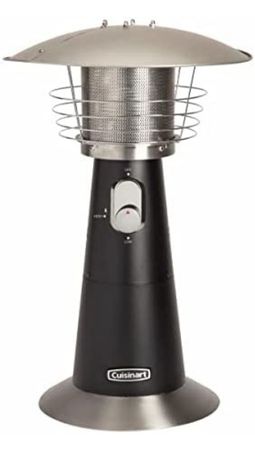 Although there hasn't been as many of these Cuisinart table top heaters sold, they have the highest ratings for customer satisfaction particularly in regard to ease of assembly and heat output and are definitely worth considering.
This is yet another propane heater that offers both; warmth and comfort! It comes with a rotary knob that allows you to set the heat according to your need.
Do not worry about its small size; it still offers 11,000 BTU output which can easily heat up an area of about 30 sq. ft. The round aluminium heat reflector top plate provides 360-degree coverage ensuring that heat spreads out in all directions.
It's a shorter heater than most propane table top models at 17 inches compared with around 38 inches for many other models.
The Cuisinart portable heater is ideal for a dine-out with friends or family on your patio and can also be used for camping or tailgating due to its lightweight.
The built-in anti-tilt automatic shut-off technology and the burner screen guard provide protection against accidents.
The heater works well with a 1 lb propane tank. However, you can use up to 20 lbs by attaching a tank via an adapter hose.
Customer reviews point to a higher level of satisfaction and less complaints about issues – quality control seems to be better!
Good heat output at 11,000 BTUs
Consider the table height and the position of the heat source as it is a shorter model (17 inches high)
Why you should buy this table top heater: If you are looking for an easy on the eye compact yet powerful heater, this Cuisinart Tabletop Patio Heater can be a great addition to your outdoor space. It's easy to assemble, reliable and is great for not only on your patio but also with it's sturdiness and lightweight, for taking camping or other activities.
3. Best Pyramid table top heater
Hiland Table Top Pyramid HEATER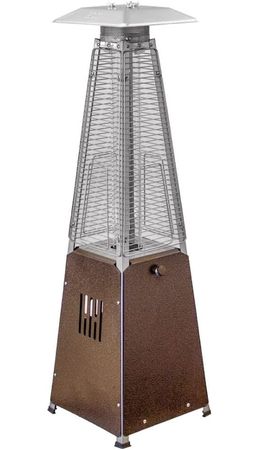 If you're looking for a more stylish heater, pyramid table top heaters are becoming increasingly popular. We've found the flame effect, adds to the ambience – who doesn't love watching the flicker of a flame on a cooler evening?
Standing 39 inches tall, this propane heater has an attractive design. The pyramidal shape offers a stylish flame-like effect enclosed in a vertical quartz glass tube, while the hammered bronze finish adds to its elegance.
This heater weighs only 1 pound, allowing you to easily move it around and place it where needed.
If you are not very fond of tools, you'll love this table top heater as it comes fully assembled. Just add the propane cylinder, and you are good to go! Moreover, it also starts in just a second, thanks to the electric ignition.
With a thermocouple and anti-tilt safety feature, this heater is a safer option if you have kids around.
The Hiland heater's 9,500 BTU output makes it less effective at heating than other models we reviewed. Many purchasers have commented that the ambience of this heater, outweighs the disadvantage of lower heat output. However, the flame height can easily be adjusted with the turn of a dial.
The 1lb propane tank lasts around 2 to 3 hours when the flame is set on high. With an additional adapter hose, you can fill up to 20lbs of propane.
Attractive design with an ambience from the flame
Portable and light weight
Thermocouple and anti-tilt safety features
Adapter available to use with 20lb propane tank
At 9,500 BTU's, it's not as powerful as other table top options
Quartz glass tubes are fragile and more prone to breaking
Why you should buy this table top heater:  If you're looking for a tabletop heater that can also serve as a stylish centerpiece, the Hiland Portable Propane Table Top Pyramid Heater is a great option. It will be the talking point of your guests whilst taking the chill out of the air.
4. Best Electric Infrared Table Top Heater:
Star Patio Electric infrared heater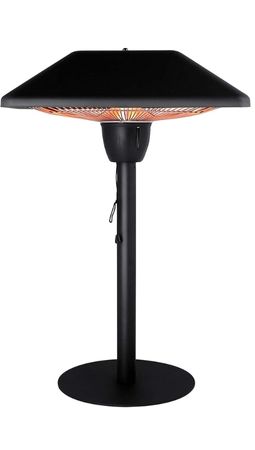 If you're looking for an electric heater rather than a propane gas one, the Star Patio Infrared Heater is a great choice.
Looking a bit like a lamp, this electric table top heater is a perfect combination of decent heat output and attractive design. We find that it's non-intrusive as a table centrepiece so it makes a great addition for dining tables.
It pulls on with a pull string with a few different designs available  The fashionable square shape and sandy black color make it aesthetically appealing.
This heater is IP44 certified, meaning it can withstand extreme weather conditions. It is weather and dust resistant so there's no need to worry about it getting wet in the rain.
With an anti-skid design and auto shut-off in place, it will turn off if it tips over!
Star Patio heater provides quick, steady, and noiseless heating with 5100 BTUs. It can heat up to 12 sq. ft area.
This versatile heater is ideal for places like gazebos, patios, balconies, screened-in patios, workshops, garages, living rooms and bedrooms.
Produces no odors, fumes or noise and is non-intrusive
Minimal impact of wind to the infrared heat source
Offers decent heating with 1,500 watts of power
Don't need to have a supply of gas on hand to use it
Can be used for a range of situations including indoor use (eg. for your garage or living room)
Is more expensive than several other table top heater options
Some purchasers advised of issues with the switch failing requiring product to be returned. Start using it when you receive it to make sure you have not received a dud
At 26.6 inches high, it's shorter than propane heaters (around 38 inches high) so placement on a low table may mean the heat does not feel high enough
Single temperature with no adjustability
Why you should buy this table top heater:  If you're looking for a convenient heater without the hassle of worrying about have a supply of gas, the Star Patio Electric Infrared Heater is a great choice. We think it's better suited if you're looking for a heater to sit on a higher table (like your dining table) to keep you warm as it's shorter in height. And if you have a screened in patio, and looking for a safe option without fumes, the Star Patio heater is a great option.
5. Best Table Top Fire Heater:
Bond Manufacturing Mara Table Fire Heater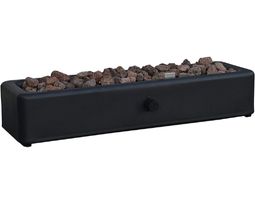 With a real flame look, this heater is a perfect blend of beauty and functionality. It offers a smokeless and odorless flame making it easier to sit near it and enjoy an evening with your loved ones.
The flame gracefully glides across a bed of lava rocks, which have an ember-like appearance, and the attractive matte black surface elegantly complements any outdoor location. It does not come with a wind shield and you're better off using it in areas/ on days which are still or only have a light breeze.
The Bond Manufacturing Mara 52010 offers 33,000 BTU, one of the highest heat outputs in the table top heater range, and can heat up a larger area. Whether you have a wood, wicker, or composite table top, this fire heater is safe to use on any surface. However, you'll need an umbrella hole in your table to feed the gas hose to the unit.
It comes with a 6 foot gas hose and a tank seat; however, you'll have to purchase the 20 lb propane tank separately.
Built with alloy steel, this fire heater is durable and will last you for years to come!
Odorless and smokeless flame
Requires an umbrella hole to function properly
Can only work with a 20lb propane tank
As it is a low height, it will best suit higher table tops like your dining table
No windshield is available so the flame will blow around if there's wind
Why you should buy this table top heater: If a powerful heater with functionality and elegance is your preference, then look no further than this Bond Manufacturing Mara table top heater! Use it when there's the chill without the wind on your dining table for a lovely centerpiece.
6. Best Bronze Finish Propane Table Top Heater:
Hampton Bay Table Top Propane Heater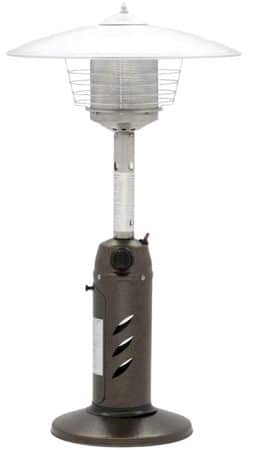 Hampton Bay is another great choice for a propane heater. This 39 inches tall model adds a touch of elegance to any outdoor area with its bronze powder-coated base
This tabletop heater is made of stainless steel, which makes it sturdy and weatherproof. With a heat output of 11,000 BTUs, it can warm a space of up to 30 square feet. The wide control dial makes it easy to quickly adjust the temperature, and the reflector hood pushes the heat downwards, keeping your guests warm.
The heater weighs only 450 grams making it lightweight and easy to move around as needed. It is easy to ignite by simply pushing a button. No need to turn it on hours before your guests arrive!
Good heat output for a table top heater
Adapter available to use with 20lb propane tank
Elegant design with bronze finish
Many reviews indicate the gas runs out quickly with a 1pd tank and recommend to connect to a larger 20lb tank (which decreases portability)
More complicated assembly
Why you should buy this table top heater: If you want a stylish table top heater with good heat output and have a bit or patience when it comes to assembly, then this heater may be perfect for you!
7. Best Resort Style Table Top Heater:
Bali Outdoors Patio Heater Tabletop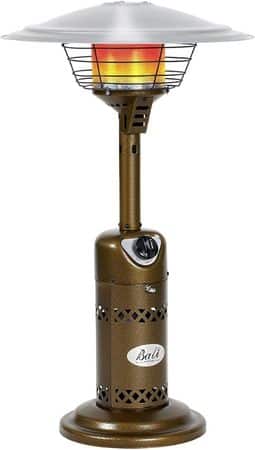 With a simple design that complements any outdoor space, the Bali Patio gas heater is yet another portable heater that offers decent heat output of 10,000 BTUs.
The heater comes equipped with safety features such as a gas shut-off switch, which cuts off the propane in case the heater tips over. Furthermore, the ODS protection device adds to its safety by shutting off the fuel supply if the oxygen level in your surroundings drops to 18% from a normal 21%+.
The Bali outdoor table top heater is built for a standard 1lb propane tank (not included), allowing a heating capacity of more than 2 hours. For longer heating hours, you can use an adapter hose to connect a 20lbs tank.
The adjustable thermostat allows straightforward controls and easy ignition.
Convenient ignition system
Decent power output at 10,000 BTUs
Several people advised they had issues with assembly and it's important to follow the instructions. Customer Service for the product has been found to be great if you have any issues.
Igniting it may be difficult – follow the instructions
Why you should buy this table top heater: If you want a powerful heater that offers good value for money and has you feeling like you're on a tropical island, this Bali table top heater may be the right choice for you!
8. Best Stainless Steel Table Top Heater:
Fire Sense Propane Table Top Patio Heater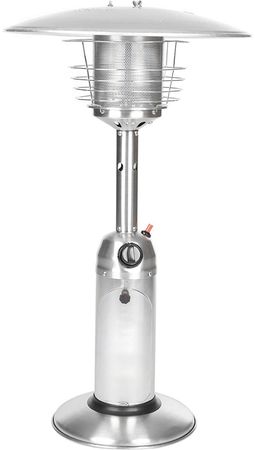 Crafted with heavy-duty stainless steel, this propane table top heater is another name for durability, allowing it to withstand heavy use and corrosion. The sleek stainless steel also gives it an industrial vibe that is bound to get attention from guests. It is also available in a hammered bronze finish.
The base offers great stability, but the built-in cut-out feature makes it safer even if it tips over. Additionally, if oxygen levels fall too low, an internal oxygen depletion sensor will cut off the fuel supply.
The heater comes with all nuts and bolts, a regulator, and complete assembly instructions, saving you plenty of time.
The slightly shorter height of 35 inches means this heater is compact and lightweight, so it is easy to move it around without any hassle.
The 10,000 BTU output and heat reflector hood raise the temperature as much as 10-25 degrees. The controls are simple to use; a rotary dial helps adjust the heat setting, and a push-button ignites the heater instantly, keeping you and your friends warm on a chilly evening.
Decent heat output at 10,000 BTUs
Assembling it can be overwhelming due to 20+ parts
Why you should buy this table top heater: If you are looking for a heater that is suitable for late summer evenings or fall gatherings,  this Fire Sense table top heater comes highly recommended.
9. Best Ethanol Table Top Heater:
Brian & Dany Tabletop Portable fireplace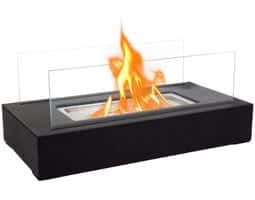 This fire pit is a  great table top heater which runs off bioethanol and serves as a lovely decorative centerpiece for a cozy backyard patio setting.
Unlike many other table top heaters, this one offers dual functionality by providing heat as well as light, making it ideal for areas with dim lighting. We'd suggest it suits only if you want to take the chill off the air.
The sturdy tempered glass panels shield it from the wind and protect you from a flame that may blow around a little. This Brian & Dany heater is smoke-free and safe. The base is made of solid steel, making it long-lasting.
Weighing only 3 pounds, this lightweight heater is easy to move around from table to table. It runs on ethanol fuel allowing a maximum burning time of 45-60 minutes.
Gives an adequate amount of heat to take the chill off the air
Attractive, modern heater creating a lovely ambience
Burn time varies. Several reviews state that a tank of fuel lasts only around 20 mins meaning it needs to be regularly refilled
Does not come with bioethanol fuel – and you may find it hard to source locally pushing the price up for fuel
There's no option to connect it to larger fuel tanks – you'll need extra bottles of fuel for when it runs out
There are no controls for the flame and the flame can move beyond the windshields so use when it's still or only in a light breeze
Why you should buy this table top heater: This heater will transform your patio when entertaining providing a touch of heat and lots of ambience!
What you need to know about table top heaters before choosing a model
To help you decide on a table top heater, there's some background information that you may find useful.
Table top VS Full sized Freestanding Heater
Let's start with the main differences between table top and a full sized freestanding heater so you're realistic about what can be achieved if you are considering a smaller table top heater:
Size

– The standard height of a table top heater is around 38 inches compared to around 90 inches (approximately 7.5 to 8 feet) for a full sized heater. With these differences in height, it will also impact where the heat radiates from. If you are sitting around a table top heater which is close to you, you may feel warmer sooner. The heat is also more likely to radiate more directly upon you. If you have limitations in your ceiling height, a table top heater will be a better fit for your patio.

Power

– The heat output of table top heaters is significantly less at approximately 10,000 BTU compared with around 48,000 BTU for a full sized heater. This significant difference obviously means that table top heaters will warm a smaller area only and will be much less effective if you have a large patio. But you do have the option of considering a few table top heaters to provide additional heat across your patio.
Fuel Capacity – When considering propane heaters, table top heaters will typically only accommodate a small 1 pound gas cylinder although some will give you an option to purchase an adapter to connect it to a larger 20 pound cylinder. Full sized patio heaters run off larger tanks. To avoid your heat running out quickly with a table top patio heater, you'll want to go with the larger tank option.
Portability/ Storage – Table top heaters are less bulky, lighter weight and more portable than their taller cousins. This will also make it easier to store them.
Cost – Generally table top heaters will be less expensive however this depends on the aesthetics and additional features you go for.
Given the significant differences in their height and power output, don't expect to buy table top heaters and then be surprised they produce less heat and do not warm as large an area than their taller counterparts!
When To Use Table Top Heaters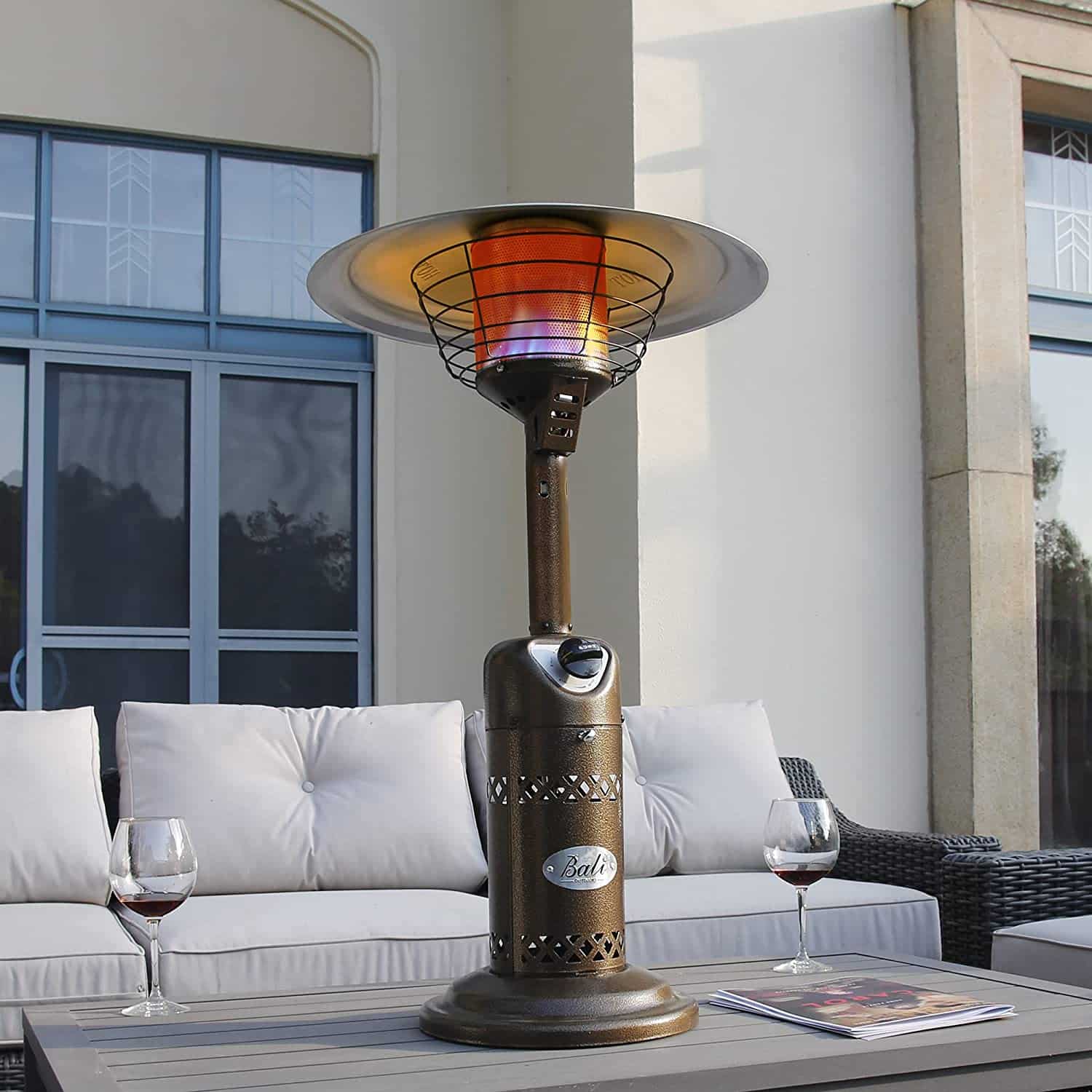 When you and your guests are likely to be sitting around coffee tables or a dining table without moving around the patio too much, table top heaters are a great option.
To feel warm when using a table top heater, you'll need to be sitting close to it – say within a 3 foot radius.
The heat will be directed to the parts of your body which are exposed. So if you have a tabletop heater sitting on top of a dining table you will be eating at, the heat from a table top heater will be directed towards the upper part of the body helping you and your guests to feel warm.
If you find the top of your dining table shields the direction of the heat to the lower part of the body, using a blanket over the lap can you feel warmer as it gets cool.
How much Heat do Table Top Heaters Generate?
The main thing to be aware of with table top heaters, is that the heat they produce is significantly less than a freestanding patio heater that is full sized. The higher the BTU, the more powerful a gas heater.
You could expect around 48,000 BTU of power from a good quality full-sized propane heater, whereas the strongest table top heaters produce around 11,000 BTUs of power. So you cannot expect table top heaters to produce equivalent heat to a full-sized patio heater.
Many of the product reviews that are critical of table top heaters, say they do not put out enough heat. Be realistic about the size of the area you want to heat and how cold it is.
You can expect that for calm weather without wind where the temperatures are getting down to around 50 F, that table top heaters will help keep you warm. But you'll need to be sitting close to them. There are also differences in the power of table top heaters, so again the higher the BTU, the more warmth you will feel. Generally the more decorative the table top heater, the lower the heat output. So sometimes you may need to weigh up the look and feel of your heater against how much warmth it will provide.
Check the size of your patio
Measure the size of your patio and use this as a starting point to work out the type and size of patio heater that will suit you. You should allow 3 feet above your heater so if you don't have enough clearance for a full size freestanding heater, a tabletop heater may be a great option.
Types of Table Top Heaters
There are two main types of table top heaters – electric and propane (gas).
Both options provide warmth and comfort but are very different from each other. You may also see bioethanol and gel table top heaters We've included one for these in our top 9 reviews but generally they are more focused around looking attractive rather than providing too much warmth.  best of table top heater reviews.
Electric Table Top Heaters
These will require connection to a power source via a 110v standard plug so you'll need a power point close to where you will be using the heater.  Be aware of the trip hazards associated with power cords – patio tables are often positioned away from walls so you can seat more people around it – but that means the power cord will probably be in the walk way of someone. Taping it down, or using a floor cable protector will help to keep guests and your heater safe.
Electric table top heaters do not produce any emissions. Many models have built in safety features so if you touch them, you won't get burnt or they'll switch off if knocked over by accident.
As electric table top heaters lack the look of a flame, they are less likely to attract the curiosity of young children than some of the propane table top heaters (who doesn't like the look of a flame!!) This could mean, they are a safer option with children with them also being cool to touch.
The downside of electric table top heaters is that usually they will cost more to run than a propane heater. But they are as accessible as plugging in a cord so you don't have to worry about the hassle of planning out whether you have propane gas tanks to be able to use your table top heater.
Propane Table Top Heaters
These run off propane gas tanks. A 1 lb tanks can be concealed in the stand of the heater. Expect this to last 1 to 2 hours if you have the heater on the highest setting or around 4 hours if using it on a lower setting. Some models have the option to connect the table top heater to a 20 lb propane tank via an adapter which means you don't have to worry about the gas running out so quickly. The larger tank however, reduces the benefit of the propane table top heater being the most portable option.
Propane heaters produce emissions so you need to ensure there is adequate ventilation and that you are not using a propane patio heater in a confined space. Install a carbon monoxide monitor as a precaution to alert you of the build of carbon monoxide.
How to Choose the Best Outdoor Patio Table Top Heater in 2023
Outdoor patio heaters are available in various sizes, shapes, and configurations. Your patio space and personal preferences will determine the kind of patio heater you should get. However, you should keep in mind the following points when choosing a table top heater.
1. Size
Table top heaters are a good option if your patio is on the smaller side. However, it's vital to remember that these heaters can only effectively warm a relatively small area due to their size. On average, a 39-inch tall table top heater with around 11,000 BTUs is an ideal option for a table of five people.
Even if your patio is small, if it is open on all sides or is uncovered, you can expect that a table top heater is going to struggle more to provide warmth. That's when a more powerful patio heater may be a better choice – along with larger patio sizes.
2. Heat Output
Propane heater output is measured in BTU's whilst electric heaters are measured in kW. The higher the number, the great the power and therefore the more effective it will be in keeping your warm in cooler temperatures.
Gas table top heaters typically are between 4,000 to 11,000 BTUs. Electric table tops will usually be 1500 watts of power. You can expect both types of heater will help keep warm five people sitting around a table.
3. Fuel type
What fuel do you have access to? Is there an electrical power point close to where you want to use a patio table top heater?  If there is not, you will need to look to propane table top heaters.
If you do have a power supply, you have a choice of either electrical or propane heaters. We have covered some of the differences above.
4. Portability
If you plan to move your table top heater around or carry it with you while traveling, look for portable heaters. They are easy to dismantle, and their height can also be adjusted. Heaters that weigh 20 pounds or less will be better suited for you.
5. Propane patio heater safety features
Outdoor heaters are mostly used for a relaxed evening with friends or family, and people tend to be careless during such gatherings. Therefore, it is ideal to pick a heater that offers better safety features. For a propane table top heater, the safety features to look for are:
anti-tilt– the heater immediately switches itself off if it is tilted (knocked over).
a weighted base – which provides additional stability.
ODS protection device – cuts off gas supply if the level of oxygen gets too low.
a thermocouple – prevents the release of unburned gas if the pilot goes out.
burner screen guard – prevents hands from getting too close.
6. Electric patio heater safety features
For electric table top heaters, the safety features to look for are:
7. Durability
Before choosing a tabletop patio heater, consider the region where you live. Durable materials, such as stainless steel offer better protection in weathered or more humid areas.
Whereas for inland and drier areas, aluminium or steel is usually sufficient.
8. Aesthetics
Patios are an extension of the home and for many, there is great pride in the look and feel of your outdoor space particularly if it is used for entertaining. This means the look and feel of the heater and how well it complements your patio, will be more important.
Propane table top heaters have a greater range of more attractive options available and are likely to be a better fit if the look of your heater is important.
9. Light
Some patio heaters will emit light or have a flame effect which helps to add to the ambience particularly at night time.
Final Thoughts
A table top heater is an ideal addition to your outdoor living space if you like to host social gatherings on your small patio or when guests are sitting next to it or around a table. Think about what you are looking for in a heater before you buy one – you may be drawn to more modern looking table top heaters with open flames, but these generally rate higher for ambience than they do for heat.  The higher BTU propane gas table top heaters will keep you and your guests warmer if it's the comfort in being able to sit outdoors for longer that you're after!!
If you decide a propane table top heater is the best option, buy the adapter pack so you can connect it to a larger 20 pound gas tank. This will help to save you the hassle of running out quickly with the 1 pound tanks and will save you money on fuel in the long run. You will trade-off the benefit of the portability of the heater if you do this.
And be realistic about the heat a table top heater will produce. If you live in areas that get colder or if your patio is bigger, check if you have the space (you'll need about 3 foot clearance to the ceiling) for a full sized patio heater instead. The biggest disappointment people who use table top heaters experience is they don't produce as much heat as the big heaters. When they are a fraction of the size and the power, you can't expect them to do the job of their big brothers!
Whether you're looking for high style, premium ambience, or increased heat functionality, there is a table top patio heater to suit your needs. Once you've found the one that meets your requirements, review the characteristics carefully and get ready to enjoy your outdoor space even more! Enjoying the outdoors when there's a chill in the air is a great way to connect with family and friends.