Staying Warm While Hunting: A Buyer's Guide to the Best Heated Hunting Gear in 2023
Published: August 25, 2023
As any avid hunter knows, tracking and waiting patiently for the perfect shot requires intense focus and stillness.
When you're shivering uncontrollably and losing feeling in your fingers and toes while hunting in cold weather, focusing on anything but your misery becomes just about impossible.
We've covered tips on how to stay warm when hunting but basically, having the proper cold weather hunting gear makes all the difference between a successful hunt and giving up early.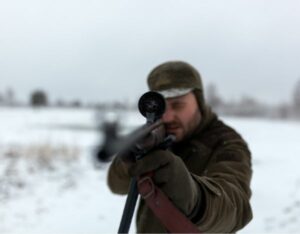 Without effective clothing and gear to retain warmth, you might as well kiss that trophy buck goodbye.
The good news is that there are many heated hunting gear out there, designed to help you stay warm.
From battery powered heated jackets and gloves to rechargeable handwarmers and seat cushions, you can now buy specialty hunting gear to keep you toasty no matter how low the temperature goes.
In this comprehensive buyer's guide about the best heated hunting gear for cold weather hunting, we'll share the key factors to consider when choosing heated gear for your needs.
We'll also provide detailed recommendations on the top heated jackets, vests, gloves, hand warmers, and other essentials to provide complete warmth while spending long hours exposed to the outdoors.
Key Factors to Consider When Buying Heated Hunting Gear
When it comes to buying the best heated hunting gear, there are some important considerations to think through before making your choice.
Let me walk you through the main factors I always evaluate when buying heated hunting products, when I go hunting.
Should Have a Good Battery Life
When buying a heated hunting gear you need to see how long the battery will realistically last before needing a recharge.
Many heated jackets and gloves rely on rechargeable lithium batteries these days.
I'd target ones that provide at least 10+ hours of continuous heat so you can set out for an all-day hunt without worrying about losing power.
And packing backup batteries or a portable charger as insurance is never a bad idea. Nothing's worse than having your gear die halfway through a frigid deer stalk!
Can Be Adjustable to Heat Level
The best heated wearables for hunting in cold weather have settings like low, medium and high heat.
This gives you control over the warmth so you can crank it up when stationary, then dial it down when hiking around to conserve body energy.
Should Have Insulation
You need insulation so the heat generated inside your body could stay there and not come out.
High quality insulation makes a huge difference in retaining warmth rather than letting it quickly dissipate.
Down, PrimaLoft and Thinsulate are fantastic at trapping body heat, so look for those materials used in the outer layer.
Should Be 100% Waterproof
Hunting conditions can turn wet and miserable really fast because of snow, rain and marshy terrain.
So, you should look for heated gear with durable water-resistant or waterproof outer fabric.
Staying dry would keep you away from feeling cold and losing body heat because of evaporation.
Should Be Portable
Since hunting requires covering ground, I prefer my heated gear to be as lightweight and packable as possible.
Pocket hand warmers are a perfect versatile option you can easily carry and try to avoid bulky, restrictive stuff that will slow you down.
The Best Heated Hunting Gear for Staying Warm in the Field
The Best Heated Hunting Jackets
A high-quality heated jacket is one of the best investments you can make for staying warm on cold weather hunting.
The key is finding one designed specifically for rugged outdoor use, with features like weatherproof exterior fabric, adjustable heating elements, and long battery life.
And don't forget, layering your clothes when hunting is a key to staying warm in cold weather.
Ideally, you want an insulated jacket with built-in heating panels that run throughout the core body areas and sleeves.
Materials like carbon fiber heating elements are thin and flexible while distributing heat evenly across the torso, collar, and sleeves.
Durable water-resistant or waterproof outer shell materials will shield you from snow, wind, and rain so cold moisture doesn't impact heating performance.
Also, the best heated hunting jackets have multiple temperature settings – often 3 levels like low, medium, and high heat.
This allows you to dial in just the right temperature for your needs. Use high heat when sitting stationary, then adjust down when moving around.
For all-day hunting trips, you need ample battery life. Look for lithium polymer or lithium ion batteries that provide up to 10+ hours of continuous heat before needing a recharge.
That ensures your jacket will keep you warm even on the longest, coldest days. And a 1-3 year warranty provides you peace of mind on your investment.
Best Choice for Heated Hunting Jackets You Should Buy:
  

Ororo Heated Jacket

 

– Carbon fiber heating elements, water resistant and windproof shell, 3 heat settings to 140°F, 10+ hour battery life

  

Milwaukee Heated Hoodie M12

 – M12 REDLITHIUM batteries, carbon fiber heating panels, water resistant ripstop polyester, 3 year warranty
  

Volt Resistance Heated Hunting Jacket

 

– 7.4V battery, heat zones in chest/back/collar, adjustable temp settings to 140°F, windproof/waterproof shell
  

Klimate Heated Hunting Jacket

 

– Ultra thin carbon fiber heating pads, up to 10 hours battery life, water resistant, 3 temp settings
  

Firstgear Kilimanjaro Heated Jacket

 

– Zone heating, wind and waterproof exterior, 7.4V battery, multiple heating levels, 10 hour runtime
  

Gerbing Core Heat Micro Climate Jacket

 

– Thin FIexWarm panels, waterproof and breathable shell, 10+ hour battery, adjustable temp settings
The Best Heated Hunting Vests for Lightweight Warmth
For lightweight warmth during winter hunts, a high quality heated vest is a versatile option you should consider.
The key features to look for in an excellent hunting vest for cold weather hunting include thin, flexible heating elements in the core and back, weatherproof and insulating exterior fabric, adjustable temperature settings, and long battery life.
Ideally, you want an insulated vest that contains ultra-thin carbon fiber or printed circuit heating panels strategically located in the torso and back.
This allows for heat where you need it most while retaining flexibility for shooting and movement.
The vest should be built with durable, water-resistant materials on the outer shell to protect the heating elements from moisture while locking in warmth.
Like heated jackets, the best heated vests have adjustable temperature settings (low, medium, high) to allow customizing the amount of heat.
Best Choice for Heated Hunting Vests You Should Buy:
  

Ororo Heated Vest

 – Uses carbon fiber heating zones in the core, back and collar. 10+ hour battery life and water resistant insulation.
  

KLIM Hot Wired Heated Vest

 – Contains carbon fiber heating panels lined with soft fleece for comfort. Wind and water repellent shell.
  

Bio Baselayer Core Heated Vest

 

– Integrates ultra-thin printed circuit heating technology into the vest material for even warmth distribution.
The Best Heated Gloves and Hand Warmers for Warming Fingers
When hunting in frigid temperatures, keeping your hands and fingers warm is critical for maintaining dexterity.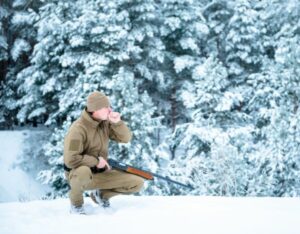 Heated gloves and hand warmers allow you to keep your hands toasty for activities like shooting, handling gear, or field dressing.
For heated gloves, look for weatherproof gloves with built-in heating elements that run across the fingers, palm, and back of hand.
Thin, flexible carbon fiber heating panels distribute warmth evenly without limiting flexibility. The best heated gloves have adjustable temp settings (low, medium, high) to customize amount of heat.
Long-lasting rechargeable lithium polymer batteries will provide hours of warmth before needing a recharge.
Portable hand warmers offer an alternative for quick, convenient hand warming anytime. Reusable options that charge via USB are very versatile.
But some hunters prefer disposable air-activated warmers that provide up to 10 hours of natural heat per use – no batteries required. They easily tuck into pockets or gloves.
Best Choice for Heated Hunting Gloves And Handwarmers You Should Buy:
  

Savior Heated Gloves

 

– Carbon fiber heating elements, water-resistant, adjustable heat up to 120°F.
  

HotHands Disposable Hand Warmers

 

– Natural heat up to 10 hours per pack, air activated.
  

Ororo Rechargeable Hand Warmers

 – Slim design, rechargeable, provides heat up to 131°F for up to 8 hours per charge.
  

Milwaukee M12 Heated Gloves

 

– M12 REDLITHIUM batteries, touchscreen compatible fingertips, water resistant.
The Best Heated Socks for Keeping Your Feet Warm when Hunting
When embarking on hunting adventures in icy conditions, ensuring your feet are warm is essential for both comfort and mobility.
Heated hunting socks provide the warmth needed for activities such as tracking, setting up stands, or simply waiting for the right moment to strike.
Opt for heated socks that are moisture-resistant and have integrated heating elements running through the sole and up the calf for maximum warmth.
Employing thin, flexible carbon fiber heating panels, these socks offer consistent warmth while preserving foot movement. The top-tier heated socks feature adjustable temperature settings (low, medium, high) to tailor the heat to your preference. 
Look for those powered by durable, rechargeable lithium polymer batteries, which will give you prolonged warmth throughout longer hunting excursions.
For those who prefer an alternative, foot warmers that can be slipped inside regular hunting boots are available. Some hunters appreciate the convenience of USB-rechargeable foot warmers, while others lean towards the simplicity of disposable, air-activated versions which give up to 10 hours of warmth without any need for a power source.
Top Recommendations for Heated Hunting Socks and Foot Warmers:
ActionHeat 3V Wool Rechargeable Battery Heated Socks

– Built in rechargeable heating panels heat up to 140°F. Charge with lithium or AA batteries. Available in wool blend or cotton blend.

TrailHeat Heated Socks

– Features carbon fiber heating technology, moisture-wicking capabilities, with adjustable heat settings up to 115°F.

StepWarm Disposable Foot Warmers

– Provides consistent warmth for up to 10 hours, activated by air.

FootFire Rechargeable Warmers

– Ergonomically designed, rechargeable, and can deliver heat up to 126°F for about 8 hours on a full charge.

HunterPro Thermal Socks – Equipped with long-lasting batteries, designed for rugged terrains, and boasts water-resistant properties.
The Best Heated Hunting Chair Cushions & Pads for Warmth While Waiting
When stationary for long periods while hunting, having a heated seat pad or cushion can make a huge difference battling the cold.
Key features to look for are adjustable temperature settings, weatherproof and durable materials, and secure straps for attaching them.
Heated seat cushions maximize comfort with ergonomic designs molded for your backside and thick padding.
Rechargeable lithium batteries provide hours of continuous heat.
Portable heating pads offer more flexibility since they can be used anywhere. Ultra-thin, flexible pads fold up small and contain straps for attaching to existing surfaces like metal stands or benches.
Fast-heating technologies like electromagnetic radiation means they warm up in seconds. Moist or dry heat options on some models.
Best Choice for Heated Seat Pads and Cushions You Should Buy:
 

ActionHeat 5V Battery Heated Seat Cushion – extra large heating panel with three heat seatings from 90-130F. Waterproof battery pocket. Stay warm around 5 hours.       

Gideon XL Heated Seat Cushion

– Electromagnetic radiation heating, adjustable temp settings, weatherproof cover.

 

Sojoy iWarmer 2-in-1 Heated Cushion

– Dual heat zones up to 113°F, rechargeable battery, anti-slip bottom.
 

WarmNSafe Rechargeable Heating Pad

– Ultra-thin pad, attaches with straps, heats up quickly, moist/dry heat modes.
 

Coleman Heated Seat Cushion

-Vinyl exterior, soft fleece lining, adjustable temperature settings, attaches to chairs.
The Best Portable Heater for Cold Weather Hunting
When you're settled into a ground blind, tree stand, or other fixed position while hunting, having a portable heater can make a cold wait much more comfortable.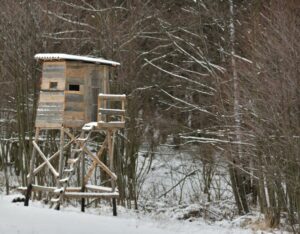 But with so many options out there, how do you choose the right one?
First, you want a portable heater that's truly compact and lightweight. After all, you'll have to carry it to your spot, so anything bulky or heavy is a non-starter.
Focus your search on heaters under 5 pounds for the best portability.
Next, look at the heat settings and output. You want at least a couple adjustable settings to control the warmth level.
And sufficient BTUs for the heater to crank out heat for a small enclosed space up to 100 square feet.
Run time is key too. Look for heaters powered by an internal rechargeable lithium ion battery that provides at least 3-5 hours of continuous heat.
That allows you to set up at dawn and stay toasty until mid-morning during the peak action. The best portable heaters can run up to 7 hours per charge!
Durability is also important since your heater may get knocked around during transport. Make sure it has a tough metal or heavy duty plastic housing that can handle some abuse in the field. Water resistance is a big bonus too for snowy or rainy hunts.
Best Choice for Portable Hunting Heaters You Should Buy:
 

Mr. Heater Portable Buddy

– 4,000-9,000 BTUs, up to 7 hours runtime, folding handle.
 

Texsport Sportsmate Portable Propane Heater

– 2,890 BTUs, up to 5 hours per 16.4 oz tank.
 

Milwaukee M18 18V Lithium Ion Cordless Heater

– Up to 6 hours runtime, multiple heat settings, tough plastic housing.
 

Stanley Fatmax Rechargeable Ceramic Heater

– Up to 5 hours runtime, adjustable angle, built-in battery.
Final Tips on Purchasing the Best Heated Hunting Gear for Cold Weather Hunting
Now that you are ready to buy yourself the best heated hunting gear out there for cold weather hunting, still here are some few last tips to remember when buying heated hunting gear.
First of all, inspect the materials used in the exterior shell of jackets, gloves, and other gear.
Durable, weatherproof fabrics that can withstand the rugged demands of hunting conditions are critical.
Look for solid ripstop polyester materials with waterproofing treatments that can handle moisture from snow, rain, and marshes without compromising interior heating performance.
Pick gear that offers the battery runtime, temperature adjustments, and functionality to match the durations and extremes of the weather you typically hunt in.
Do some research on feedback from fellow hunters who have tested the gear in actual hunting scenarios. Their real-world experiences will tell you a lot about effectiveness and durability.
And last but certainly not least, verify any electronic heated gear meets the expected safety standards and regulations.
Built-in features that mitigate risks like overheating, electrical malfunctions, and open-wire dangers are must-haves for peace of mind.
Your gear should heat you safely during the hunt – not the other way around.
With proper heated hunting gear, you can conquer the cold and remain focused on a successful hunt rather than your discomfort.